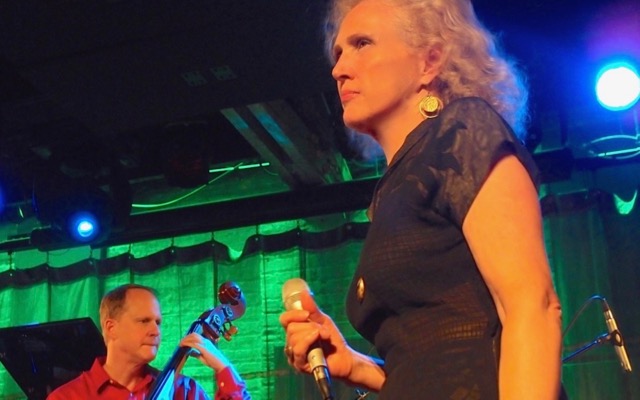 Described as "utterly distinctive and even innovative" by Billboard Magazine, Jackie Allen is renown for her transcendent interpretations. Winner of the 2018 Lincoln Mayor's Arts Award, she has made multiple tours of Europe, Morocco, Brazil, China, and Taiwan. Nationally she has appeared in Los Angeles, San Francisco, San Diego, and New York City at The Blue Note and Josef Papp Public Theater. She was featured artist with the Chicago Jazz Philharmonic in Chicago's Millennium Park and Auditorium Theater for Ella Fitzgerald's 95 Birthday Celebration. She has performed international festivals in Detroit, Chicago, Paris, The Hague, Stuttgart, Edinburgh, Bologna, Beijing, Hong Kong, Thessaloniki, Sao Paulo and more. Regionally, she has appeared in Denver, Louisville, Cincinnati, Indianapolis, Cleveland, Minneapolis, Milwaukee, Omaha and Chicago.
Hans Sturm is a composer and performer of the largest bowed string instrument, the double bass. He writes and perform original works for the double bass that combine traditional techniques from classical and jazz traditions with innovative alternative techniques. His compositions are written primarily for unaccompanied bass, bass and voice, or bass in small ensembles (under 10 players). Hans contributed compositions and performances to over 50 CDs and has performed his pieces on 5 continents. Within the past three years he has performed his pieces is 10 U.S. states, Auckland, Havana, Barcelona, Geneva, Berlin, and Venice.
Hans says about The Early Bird Project: I have been involved with Bass Meets Voice since the late 1980s. Jazz vocalist Jackie Allen and I have performed in many iterations over the years, but it is the open transparency of the low sounds of the bass being paired with a solo female voice that offers one of the most thrilling and honest musical expressions. We have created a number of projects of original music for the duo over the years, Landscapes (2003) was an early publicly released recording and Songs of the Trickster (2015) was a more recent limited art project release. Before moving to Nebraska, we lived in Indiana and the duo was part of the Young Artists Roster. We created a project of arrangements of songs written by composers from Indiana for children. Over the past year we had occasion to create a set of music written by Nebraska composers for an awards ceremony and began to learn about various singers who were born in the state. We are inspired to create a concert-length project of new songs inspired by early Nebraska composers and singers to include such artists as Fred Astaire, Ruth Etting, Jeri Southern, Thurl Ravenscroft, Bill Lee, and Joe Feeny. Our presentation will include educational information about the singer or composer who inspired each piece and a word about how the piece was composed.