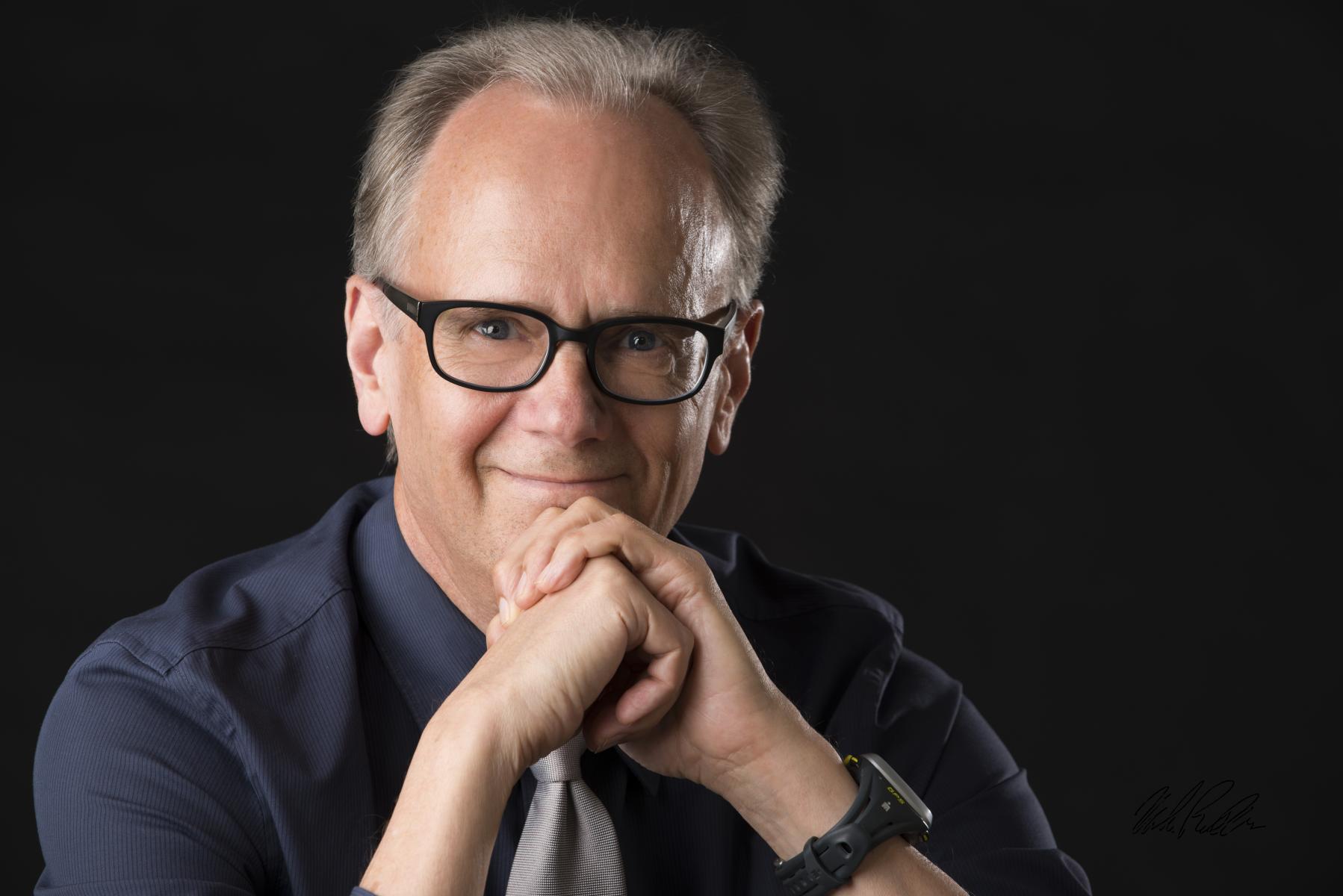 Tom Larson is the Assistant Professor of Composition (Emerging Media and Digital Arts) at the Glenn Korff School of Music at the University of Nebraska-Lincoln. He also serves as Music Director and Composer in Residence for the UNL Faculty Jazz Ensemble. His work at UNL is focused on the Composition Department, the Digital Arts Initiative, and the Jazz Studies Program.
Tom has produced music for TV and radio advertising, industrial videos, and documentary films. Among his credits are the scores for three docs for the PBS American Experience series (a production of WBGH-TV, Boston): In the White Man's Image, Around the World in 72 Days, and Monkey Trial (which won a 2002 Peabody Award). He has also scored Willa Cather: The Road is All for WNET-TV (New York), Ashes from the Dust for NOVA, and the PBS specials Standing Bear's Footprint, Most Honorable Son, and In Search of the Oregon Trail. Tom has written music that has been used by the CBS-TV series The District, Phoenix-based Music Oasis, LA-based Music Animals, Chicago-based General Learning Communications, and advertising agencies in Nebraska and the Midwest.
As a recording engineer, Tom has worked as tracking, mixing, and/or mastering engineer for artists such as Paul Barnes, Jackie Allen, Hans Sturm, François Rabbath, The Nebraska Jazz Orchestra, The Concordia String Trio, Brad Colerick, and others.
As a jazz pianist he has performed with Dave Stryker, John Ellis, Victor Lewis, Jackie Allen, Paul Shaffer, Chris Potter, Bobby Shew, Claude Williams, Bo Diddley, and The Omaha Symphony. In 2014 Tom played at the Montreux Jazz Festival with the UNL Faculty Jazz Ensemble, playing a program of primarily his music.
Tom has authored three textbooks, The History and Tradition of Jazz (4th ed.), Modern Sounds: The Artistry of Contemporary Jazz (2nd ed.), and The History of Rock and Roll (4th ed.), all published by Kendall/Hunt Publishing (Dubuque, IA).
---
Tom has been commissioned by Meadowlark to help create a new piece, Our Fathers, that will be premiered on Friday, July 14th. The concept for the project was initiated by Meadowlark Executive Director, Hans Sturm in late 2014. Tom, Hans, and percussionist/composer Chris Varga performed for several years together as the rhythm section of the UNL Faculty Jazz Ensemble and all 3 lost their fathers within a 9 month period. Hans broached the idea with Tom of the creation of a new three-movement work that would pay homage to the lives of their fathers - three very productive and creative men with distinct passions: photography and art, community building, and social justice. Each member of the trio has provided Tom with a theme and he will weave them together into the piece. The large scale composition will feature the jazz piano trio, a string quartet and two guest soloists, trumpet and jazz vocalist.