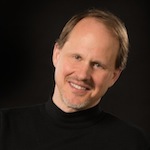 Hans Sturm
Greetings music lovers! I am delighted to have this opportunity to share my passion for music with you and to work with the Meadowlark Music Festival to bring what I think are some of the most exciting and dynamic artists in the world to Nebraska.
Prior to arriving in Lincoln in the fall of 2011, I had taught at Ball State University for seventeen years.  As a tenured full professor, I was not anticipating leaving, but the position of Assistant Professor of Double Bass and Jazz Studies at UNL peaked my interest. One thing led very quickly to another, and within two weeks of my learning about the position, I had interviewed and auditioned and my wife and I found ourselves liking Lincoln so much, that I accepted the position and gave up tenure to come. Ball State honored my contributions to the School of Music by naming me Professor Emeritus, normally only given upon retirement.
I am a double bassist by training and love to explore a wide variety of musical genres. All bassists are supportive by nature – we spend the vast majority of our performing lives at the back of the stage accompanying others. While we may not find ourselves in the spotlight often, we have the capability to perform almost every genre of music. I relish taking advantage of the instrument's flexibility and have appeared as soloist, chamber, orchestra, jazz and improvisational musician throughout Europe, Asia, South America, Africa and the United States. One of the wonderful benefits of being a musician is being welcomed as a special guest into another culture. In my new role I now have the privilege of working to in support of the Nebraska music community and 'paying it back' by playing host to other touring musicians.
In addition to teaching and performing professionally, I spend quite a bit of time visiting schools to encourage young musicians and music lovers. One recent example took place shortly after arriving in Lincoln. The Lied Center's Arts Across Nebraska program contacted me to tour the state in advance of the Turtle Island Quartet's residency and give solo bass presentations in over 25 elementary schools across Nebraska from Kearney to Scottsbluff. Imagine giving twenty-five hour-long solo bass concerts to audiences of between 50 and 200 3rd and 4th graders sitting on cold gym floors! Needless to say, it was quite a challenge to keep the students engaged with a program of classical and jazz music – one of the biggest hits were the avant-garde movie sound effects. One terrific side benefit was getting to see so much of the state, from the Platte River to the grasslands to the great bluffs.
Although we are relative new comers to Lincoln, my family has grown to love the big city amenities with a small town feel – no wonder Lincoln was named America's Happiest City by Gallup in 2013!
I invite you to join with me and the Meadowlark Board of Directors as we strive to enhance your happiness with world-class music events in charming and intriguing places.

With bass love,
Hans Sturm